Taylor Swift Fans Slam Kim Kardashian for Sharing BTS Pic From Kanye West's 'Famous' Video
Did just reignited her feud with ? The "" star appeared to taunt the "Look What You Made Me Do" hitmaker by sharing on Instagram a behind-the-scenes photo from 's controversial music video for his 2016 track "Famous".
"Famous", so Kim captioned the pic which she shared on Monday, December 4. The BTS snap showed a naked look-alike of Tay, who has been dominating headlines since releasing her latest album, "", early last month, lying naked in bed next to Kanye while the mother of Saint and North snapped away.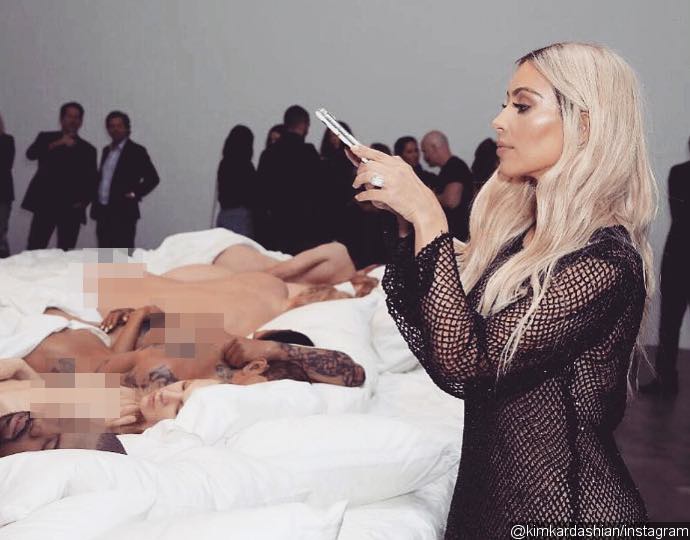 Tay's loyal army of fans known as Swifties were furious after Kim shared the pic. They quickly flooded the KKW Beauty owner's comment section with rat emojis and lyrics from their idol's "Reputation" album. When others asked why people were posting rat emojis, one devotee pointed out, "lol cause Taylor is a 'snake' and Kim and Kanye are rats. Snakes eat rats."
Since Tay released her album, fans have been speculating over which lyrics were aimed at Kim and Kanye, with many thinking "Look What You Made Me Do" was a jab at the power couple. While it's unclear why the reality TV star posted the BTS pic of her husband's video for "Famous", many thought it's her response to the bashing hits on the country-turned-pop star's latest album.
The feud between KimYe and Tay started when the reality TV star claimed the songstress "totally approved" of controversial lyrics to the rapper's song "Famous" and accused her of "playing the victim." But Tay said she never heard the full track before its release and did not realize she would be referred to as "that b***h."
In his song, Kanye addressed his interruption of Tay's speech when she won an award at the MTV VMAs in 2009. He rapped, "I feel like me and Taylor might still have sex/ I made that b***h famous."
Kanye was in a recording a studio in Los Angeles when he called Tay in January last year. While no reference was made to the phrase "that b***h," the rapper asked the songstress if she's happy with his lyrics, to which she responded, "Yeah I mean go with whatever line you think is better."