Hyoyeon Stirs Debate After Criticizing Juniors for Not Greeting Girls' Generation
Hyoyeon of made headlines once again after previously NCT's stalkers. The "Wannabe" singer stirred a hot debate among fans after she criticized other junior groups for not greeting Girls' Generation during music show "M! Countdown" on Thursday, August 10.
Hyoyeon took to Instagram Story to address the matter. She shared a selfie of her and Seohyun posing with an signed CD. "We're thankful to those juniors [EXO] who were the only ones who came to greet us," she wrote across the photo.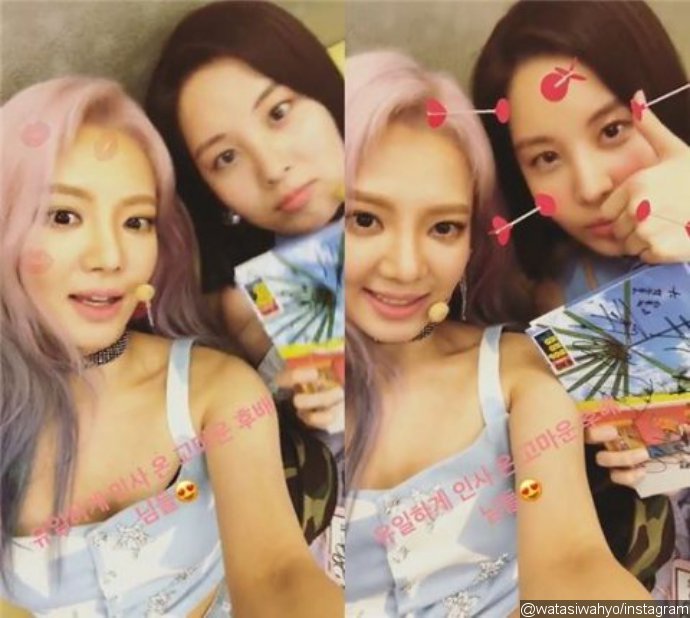 In Korea, it's been a tradition that junior groups come to visit their seniors in the waiting rooms to greet them. The juniors usually give their seniors signed CDs as a way to form a good relationship. However, it appeared that nobody visited Girls' Generation, who just celebrated their tenth anniversary, except labelmate EXO.
Although Hyoyeon might have felt offended by the juniors' apparent lack of manner, fans thought that she was being arrogant. "It's funny how the famous Girls' Generation members like Tae Yeon and Yoona never cause a problem but the others like Sunny, Sooyoung and Hyoyeon keep being arrogant?" a fan commented on an article on Pann. "What's the difference between this and those seniors in university who get pissed when the juniors don't greet them?" another added, implying that her action was immature.
However, others thought that rookie groups these days lack manner. "But seriously, isn't it a bit too much that to not show up to greet a group who's ten years into their debut?" one of them wrote. "What's up with the 'arrogance' things, it's a lack of manners to not greet someone," another commented.
© AceShowbiz.com